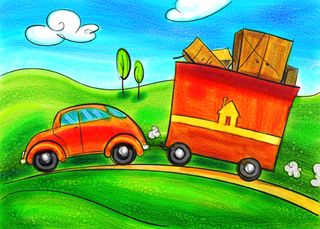 According to CNN Money, Americans are moving and Oregon, South Carolina and Vermont are heading up the list of the most popular places, as reported in "Oregon is the most popular state to move to."
Oregon leads the list as the top "moving to" destination in 2015 for the third year in a row. This is according to a study of 123,000 moves conducted by United Van Lines. Nearly 70% of the interstate moves in Oregon were people moving to the state, and the number of people moving to Oregon has increased by 10% in the past six years.
The research also showed that five of the ten states with the highest number of inbound movers are west of the Mississippi River, with the tech boom playing a large part in attracting new residents to the West Coast. However, that's just part of it.
With all the people relocating to Oregon, finding a home in the state's largest city has become a more expensive proposition: home prices in Portland have increased by nearly 11% in October from the same time in 2014!
In addition to the Pacific Northwest, the South was also a popular moving destination in 2014, and the state of South Carolina ranked second.
With more and more Baby Boomers getting ready to retire, the number of people getting out of the country's colder climates and into places with warmer weather is increasing. In fact, some states in the Northeast are having a hard time retaining their residents, with New Jersey experiencing the highest number of moves out of the state last year, followed by New York State.
These are the top 10 inbound states for 2015, according to United Van Lines (Moving to…):
1. Oregon
2. South Carolina
3. Vermont
4. Idaho
5. North Carolina
6. Florida
7. Nevada
8. District of Columbia
9. Texas
10. Washington
And here are the top 10 outbound states for 2015 (Moving from…):
1. New Jersey
2. New York
3. Illinois
4. Connecticut
5. Ohio
6. Kansas
7. Massachusetts
8. West Virginia
9. Mississippi
10. Maryland
Whether you are moving to a new state to retire or relocating for a great career opportunity, speak with your estate planning attorney. You may need to make some changes to your estate documents to ensure that your wishes are in compliance with the laws of your new home state.
For additional information on estate planning and retirement planning in Houston, please click here to visit my website.
Reference: CNN Money (January 4, 2016) "Oregon is the most popular state to move to"