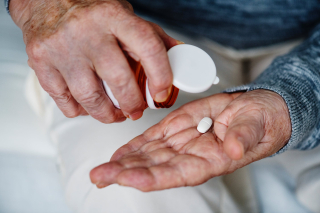 Life before Medicare was a real struggle for seniors without healthcare coverage. Today's program still works wonders, but it doesn't cover everything.
Once you turn 65, you are eligible to take part in the Medicare system of healthcare. It can be a little confusing to apply, and sometimes a little hard to figure out what it will and won't cover. Traditional Medicare, also known as "Original Medicare," should cover most of your medical expenses through Medicare Part A and Part B. Part A is all about hospital insurance: inpatient stays, skilled nursing facilities for some costs, surgery, hospice care and some home health care. Part B helps to pay for things like some medical equipment and supplies, some preventive services, doctor visits and outpatient care. Three months before you reach age 65, you need to sign up for Medicare.
Kiplinger's article, "7 Things Medicare Doesn't Cover," takes a closer look at what isn't covered by Medicare, plus some information about supplemental insurance policies and strategies that can help cover the additional costs, so you don't end up with unanticipated medical bills in retirement.
Prescription Drugs. Medicare doesn't give you any coverage for outpatient prescription drugs. However, to address this, you purchase a separate Part D prescription-drug policy that does. There are also Medicare Advantage plans that cover both medical and drug costs. Some retiree health-care policies also cover prescription drugs. You can re-enroll in Part D or Medicare Advantage coverage, when you enroll in Medicare or when you lose other drug coverage.
Long-Term Care. Medicare gives you coverage for some skilled nursing services. However, it doesn't include custodial care, like assistance with bathing, dressing and other daily activities. To address this, you can buy long-term-care insurance or a combination long-term-care and life insurance policy.
Deductibles and Co-Pays. Medicare Part A covers hospital stays, and Part B covers doctors' services and outpatient care. However, you must pay the deductibles and co-payments. It is important to understand that over your lifetime, Medicare will only help pay for a total of 60 days beyond the 90-day limit, known as "lifetime reserve days." After that, you'll pay the full hospital cost.
Most Dental Care. Medicare doesn't cover your routine dental visits, teeth cleanings, fillings, dentures or most tooth extractions. Some Medicare Advantage plans cover basic cleanings and x-rays, but they generally have an annual coverage cap of around $1,500. Another option is to buy a separate dental insurance policy or a dental discount plan. You can also build up money in a health savings account before enrolling in Medicare. You can use the money tax-free for medical, dental and other out-of-pocket costs at any age.
Routine Vision Care. Medicare generally doesn't provide insurance coverage for routine eye exams or glasses. However, some Medicare Advantage plans have vision coverage. You may also be able to buy a separate supplemental policy that gives vision care alone or includes both dental and vision care.
Hearing Aids. Medicare doesn't cover routine hearing exams or hearing aids, but some Medicare Advantage plans do cover hearing aids and fitting exams. There are also some discount programs that provide lower-cost hearing aids.
Medical Care Overseas. Medicare also doesn't cover the medical care you get when you're traveling outside of the U.S., except for very limited circumstances (e.g., on a cruise ship within six hours of a U.S. port). However, a Medigap plan C through G, M and N cover 80% of the cost of emergency care abroad, with a lifetime limit of $50,000. Some Medicare Advantage plans also will cover emergency care abroad.
Some people who spend a lot of time outside of the country purchase travel insurance policies to cover their medical expenses. If you purchase this type of policy, see if it includes emergency medical evaluation. The quality of care will depend upon where you are, but if you need to be transported by a medical plane or a helicopter, you can expect that to cost in the tens of thousands of dollars. A travel insurance policy with this provision could be well worth the price.
Reference: Kiplinger (May 23, 2019) "7 Things Medicare Doesn't Cover"