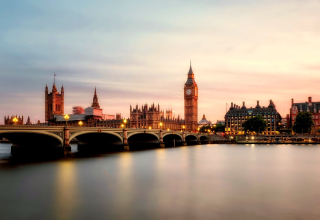 Many people contemplate retiring in Europe, to enjoy the company of relatives, a lower price of living or to explore countries they've always wanted to see. Here's what you should know  if the U.K. is on your retirement radar.
Despite a common language and shared history, life in the U.K. is quite different than life in the U.S. It's not just that it rains more, or that they drive on the left side of the road. There are cultural differences that can take some time to adjust to. However, as Investopedia points out, there are some advantages to retirees, in the article "How to Retire in the U.K. as an American."
Required Paperwork. Americans are permitted to spend time in the U.K. as tourists and stay up to six months without a visa. To stay longer, an American must qualify for a visa. Family connections, established U.K. business connections, or dual citizenship with a Commonwealth country, like Canada, may help. However, owning property doesn't guarantee a longer visa term. The British government does have a special entrance category for "retired persons of independent means." This is defined as those having a minimum yearly disposable income of £25,000 (about $31,000) and several other requirements.
With the U.K. ready to exit the European Union, there are many unsettled issues. Lucy Culpepper, European correspondent for Live and Invest Overseas, commented on the implications for Americans considering a retirement move to the U.K.
"I really don't think anyone knows yet," she said, "least of all the British government or people. I can't see that it will adversely affect American retirees wanting to come here. In fact, it may be good for retirees with an income."
Locations. Where you live in the U.K., will depend on the kind of life you want to lead. It might be a busy city like London, Birmingham, or Edinburgh. Alternatively, you may prefer a smaller city like Exeter, York or Bath, or an even smaller town like St. Ives, Wotton-under-Edge, Derby or Chipping Norton. International Living says that retiring in England's east coast county of Suffolk is an attractive choice. It's within commuting distance of London and is "a treasure trove of squat-towered churches and high-hedged lanes, thatched roof cottages painted in summertime colors, medieval towns of crooked streets and half-timbered Tudor houses." The city of Devon, with its hedgerows and thatched cottages, has "miles of countryside walks for ramblers" and "splendid seascapes."
Cost of Living. Make no mistake, the U.K. is expensive. It's more expensive than Spain, about the same as France, and much more than Latin America, Culpepper notes. However, actual costs vary, depending on where you choose to live. Of course, London is the U.K.'s most expensive destination. In Expatistan's ranking of 337 cities in the world, it's the 11th most expensive. In Europe, it ranks fourth and, in the U.K., it's number one. Its public transportation is the most expensive in the world and housing costs are the second-highest in Europe. An average monthly rental price for a one-bedroom apartment in London's city center is about $2,200. It's $1,600 outside the city center, as of 2018. The average price to buy an apartment in the center of London is around $1,650 per square foot, about 25% more than a comparable apartment in New York City.
If you get out of London, costs are a bit more reasonable. Edinburgh's housing costs are 52% lower than in London, transportation is 30% less and groceries are about 2.5% cheaper. For example, in Plymouth, the housing is 71% less than London, transportation is roughly 50% less, and overall, your living costs will be 40% lower than in the capital city.
Healthcare. As an American retiree living in the U.K., you are not eligible for the comprehensive National Health Service, except for emergencies. You'll be required to purchase private health insurance.
If you've always loved the English food, the Beatles and the history of the monarchy, then perhaps retiring to the United Kingdom is an option to consider. The countryside is beautiful, and it's small enough to travel from one region to another and experience a complete change in culture. An added plus: it's easy and inexpensive to travel to Europe, once you are across the pond.
Reference: Investopedia (October 21, 2018) "How to Retire in the U.K. as an American"