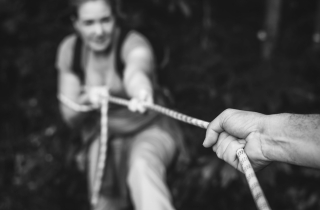 The idea that spouses and their stepchildren will share the legal power to make health care decision sounds good in theory, but, in practice, there may be some unexpected side effects.
Simple things get complicated in blended families. The idea that stepchildren and a spouse will work together to make health care decisions when their parent is ill, seems reasonable. However, what happens when the spouse and stepchildren differ on what is best?
A recent article from the Grand Forks Herald, "Joint power of attorney complicated this couple's wishes," shares the story of what happened to one woman when her elderly husband was injured and then contracted pneumonia in the nursing home. His wife alerted her adult stepchildren, who rarely visit, and they immediately arrived to help out.
While she initially hoped that their arrival would be a comfort, the children had their own idea about what was best for their father. They basically took control of the situation and negated their father's health care documents. They had him sent back to the hospital, thinking that would be best for his overall health.
Arriving at the hospital, the woman reported that her husband was weaker from the transfer and confused about why he was back in the hospital.
The children shared power of attorney, which was set up so that both the wife and the children could make decisions about the man's medical care. The wife was troubled by the children's insistence that he needed to return to the hospital. The children felt that his care at the nursing home was inadequate.
It's hard to know what may motivate the stepchildren here, but an attorney who specializes in estate or elder law is the best resource for people when making decisions, while setting up powers of attorney. An attorney may not have advised that the wife and stepchildren share this decision-making power. Even when the intentions are good, sometimes its best when only one person is in charge.
Estates can be complex, when there are adult children and a second marriage—even when the relationships are good.
Had a conversation taken place beforehand between the father and his children, it may not have made a difference. However, the feeling of his wife of being pushed aside and of the man's own wishes being ignored, adds stress to an already difficult situation.
One option may have been for the wife to ask the treating physician to speak with the children.  However, without a strong willingness to push back against the adult children, there might have been the same result.
The first concern should always be the health and well-being and wishes of the ill parent. Unfortunately, in this case, shared power of attorney wasn't a good idea for the father.
Reference: Grand Forks Herald (March 8, 2019) "Joint power of attorney complicated this couple's wishes"