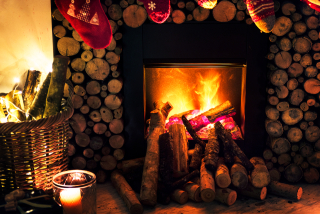 With the holidays fast approaching, it's a great time to think about keeping grandparents—and their grandchildren—safe at home.
In the U.S. today, multigenerational living is on the rise, due to the higher cost of housing, student loans, and the more challenging career path faced by younger adults today. Money isn't the only driver; many families enjoy having several generations under the same roof. Our longer lifespan means more families are providing care for elderly family members. And these grandparents and great-grandparents might babysit even while receiving help with their own care needs—a win-win for many families.
If yours is one of the over 4 million inter-generational households, it's important to consider the safety needs of both children and the elderly. This includes fire safety, say experts from the U.S. Consumer Product Safety Commission (CPSC). "Home is a sanctuary for these families. But let's not forget that home is the place where people are at greatest risk of fire."
The CPSC urged members of multi-generational families to learn what to do in case of fire, and to take the following precautions:
Make sure your home has smoke alarms. You need a smoke alarm on every level, inside each sleeping room, and outside each separate sleeping area. Interconnect the alarms so when one sounds, they all sound.
Test your alarms at least once a month. Press each test button to make sure it is working.
Practice your fire drill. Plan your home escape. Share the plan with everyone in the family and guests.
The plan should include two ways out of every room and an outside family meeting place.
Smoke alarms may not wake up children. Older adults may not hear the smoke alarm. Assign someone to help children, older adults and people with disabilities escape.
Make sure your home has bright lighting in stairways to prevent falls during a fire drill.
Remove clutter to prevent trips and falls and allow for a quick escape.
Install handrails along the full length of both sides of the stairs.
If there is a fire, get outside quickly and stay outside. Then call 9-1-1.
If you can't get outside, call 9-1-1. Let the fire department know you can't get outside. Wave a light-colored cloth or a flashlight from the window.
If there is smoke, use your second way out. If you must escape through smoke, get low and go under the smoke.
Special Holiday Tips:
Candles
The incidence of candle fires is four times higher during December than during other months. According to the National Fire Protection Association, four of the five most dangerous days of the year for residential candle fires are Christmas/Christmas Eve and New Year's/New Year's Eve. (The fifth is Halloween.)
To reduce the danger, maintain about a foot of space between the candle and anything that can burn. Set candles on sturdy bases or cover with hurricane globes. Never leave flames unattended. Before bed, walk through each room to make sure candles are blown out. For atmosphere without worry, consider flameless LED candles.
Christmas Trees
It takes less than 30 seconds for a dry tree to engulf a room in flames, according to the Building and Fire Research Laboratory of the National Institute for Standards and Technology. 
To minimize risk, buy a fresh tree with intact needles, get a fresh cut on the trunk, and water it every day. A well-watered tree is almost impossible to ignite. Keep the tree away from heat sources, such as a fireplace or radiator, and out of traffic patterns. If you're using live garlands and other greenery, keep them at least three feet away from heating sources. Artificial trees don't pose much of a fire hazard; just make sure yours is flame-retardant.
Decorative Lights
Inspect light strings, and throw out any with frayed or cracked wires or broken sockets. When decorating, don't run more than three strings of lights end to end.  Extension cords should be in good condition and UL-rated for indoor or outdoor use. Check outdoor receptacles to make sure the ground fault interrupters don't trip. 
When hanging lights outside, avoid using nails or staples, which can damage the wiring and increase the risk of a fire. Instead, use UL-rated clips or hangers.