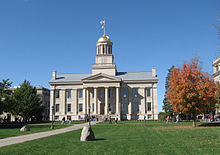 "Iowa Senator Charles Grassley is among those in Congress calling for a crackdown on elder abuse crimes in the country."
The witnesses of loved ones affected by elder abuse incidents testified at a recent Senate Finance Committee hearing in Washington.
Those witnesses included Pat Blank, longtime Iowa Public Radio host, and past winner of the Iowa Broadcast News Association's Jack Shelley Award. Blank's mother, Virginia Olthoff, died in an Iowa nursing home in February 2018, because of alleged neglect.
Another witness was Maya Fischer, her 87-year-old mother—an Alzheimer's patient—who was allegedly raped by a nursing aide.
Grassley said that in these cases, the victim's trust was betrayed by those entrusted to care and protect them, reported KMA in the article "Grassley hearing targets elder abuse issues."
"Sadly, these are not isolated cases," said Grassley. "They could happen to anyone. According to the Inspector General, a whopping one-third of nursing home residents experience harm while under the care of federally-funded facilities. And, in more than half of these cases, the harm was preventable."
Grassley sponsored the Elder Abuse Prevention and Prosecution Act. This is legislation that calls for the training of elder abuse investigators, the collection of data on elder abuse and collaboration among federal officials tasked with combating seniors' exploitation.
Even with the bill's passage in the last session of Congress, Senator Grassley says the work in this area isn't done.
"Hardly a week goes by without seeing something about nursing home abuse or neglect in the national news," he said. "Every family has a loved one—a mother, a father or a grandparent—who may someday need nursing home care. That makes this a topic of enormous concern to every American."
Grassley said that the Inspector General's alert issued two years ago, cautioned the public about deficiencies cited at nursing homes in 33 states.
Many of the cases involved sexual abuse, substandard care and neglect.
As finance committee chair, Senator Grassley says he'll continue to ensure the elderly have access to quality long-term care in an environment that is "free from abuse and neglect."
Reference: KMA (March 6, 2019) "Grassley hearing targets elder abuse issues"