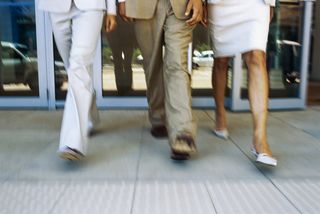 Empire is based on fictitious music company called Empire Enterprises. Lead character Lucious Lyon (played by actor Terrence Howard) is racing to name a successor for his company after learning he has months to live due to an ALS diagnosis. His sons Jamal, Hakeem, and Andre duke it out to see who will become the new head of the company. Meanwhile, Lucious's ex-wife Cookie (played by actress Taraji P. Henson) fights to keep the brothers from destroying their father's legacy.
What can we learn from this show? Here are a few financial lessons, as reported in a recent article by The Cheat Sheet titled "Top 4 Financial Lessons to Take from Fox's 'Empire'."
Always take the money. When Jamal rebuffs Lucious's attempt to offer him money for living expenses, Lucious says: "You're disobeying the very first rule of music, son. Always take the money." For those of us not in the record biz, we should take advantage of our employer's retirement plan match program. The article says that only about 77% of employees contribute enough to receive a match, according to a recent survey. Contribute up to the amount required by your employer in order to receive the match. Once fully vested, all of the matching funds are yours. Always take your money.
Watch your assets when going into business with a significant other. Lucious has a very complicated love triangle where he's in business with both his ex-wife and his fiancée. Cookie helped fund the business while they were married. The couple divorced while Cookie was in prison, but upon her release, she demands that Lucious make her co-owner of the company or she will tell everyone that the cash she contributed was actually drug money. At the other side of the triangle is his fiancée, who after a lover's quarrel, attempts to destroy Empire Enterprises by stealing its big artists and telling them to go work with a competitor. The article reminds us that it's important to protect financial assets when entering marriage. Drafting a prenuptial agreement helps protect assets by outlining each person's property rights after the wedding ceremony. If you don't have a prenuptial agreement you can do a postnuptial agreement—drafted after tying the knot.
Set up an estate plan. Lucious has just a few months before he passes away from ALS (Lou Gehrig's disease), but his estate plans look to be up in the air. The article says that before you pass, make sure your affairs are in order. Start by working with an experienced estate planning attorney to draft your will, along with a health care proxy to help with medical decisions. Also, a financial power of attorney is critical for your finances to be properly managed if you become incapacitated.
Ok, this isn't how you should plan your estate or manage a business. For additional information on estate planning in Houston, please click here to visit my website.
Reference: The Cheat Sheet (March 22, 2015) "Top 4 Financial Lessons to Take from Fox's 'Empire'"