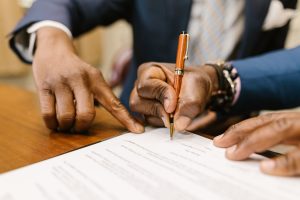 We have long expressed the importance of estate planning for everyone, regardless of status or income. One substantial step in estate planning is having a clear will that avoids dispute or probate issues. For most people, a will turns out to be a relatively straightforward document with little contention. For celebrities who commit certain estate planning mistakes, however, a will—or lack thereof—can become a public news story and topic of gossip. Some intriguing and even hard-to-believe celebrity will stories can show the importance of having a solid estate plan—even for people whose probate drama won't be in the news.
Larry King's Secret Will
Television and radio personality Larry King recently passed away in 2021, and his death prompted substantial court drama over his estate. He had a secret handwritten will—also known as a holographic will, which is not a will delivered by hologram!—which was allegedly written in 2019. His family did not find the will until he passed away. The handwritten will was contentious because, at one point, it left 20% of his estate to his children and the rest to his wife, whom he was still married to but estranged from. The two were going through a divorce, but it was not finalized at the time of his death. At some point, he crossed out this 20% figure and left all 100% to his children, disinheriting his wife. This handwritten change makes it difficult to verify on what date the change was made and whether or not King actually made the change himself. King's estranged wife and his son eventually settled confidentially to avoid the legal battle after challenges and disputes.