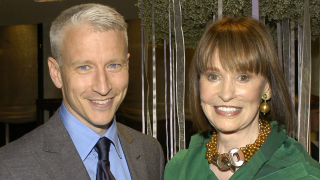 When Gloria Vanderbilt died at age 95, it was truly the end of an era. Her life included the high society world of old New York and the disco scene at Studio 54. However, her son Anderson Cooper reports that he won't inherit any money from his mother.
Gloria Vanderbilt's life in the spotlight began when she was very young. She remained in public view through a long and fascinating life. As a child, she and her trust fund were headlines in an epic divorce. Now that she has passed, speculation has reemerged about what happened to the Vanderbilt money. According to Trust Advisor's article, "Does A Long Island Landscaper (And Not Anderson Cooper) Inherit Gloria Vanderbilt's Fortune?" the money may be long gone.
It's reported that she had to sell off a few houses to pay the tax bills. Anything left behind is well-hidden in some estate planning documents. With her family fortune dwindling over time, Vanderbilt's fashion empire came and went. However, the distributions kept coming to fill the holes.
Her children and grandchildren built the careers they wanted, investing their inheritances into passion projects, with little or no immediate payday. Some are novelists, filmmakers and TV journalists. Gloria built a fashion empire of her own.
As the baby, Anderson was closest to his mother. He's probably accumulated the most personal wealth after years on CNN, so he doesn't need his mom's money. Her oldest son Stan probably doesn't need the money either.
Stan has a successful landscaping business in Long Island. Any Vanderbilt money he inherited along the way, is probably well invested.
There's also a third son, Stan's brother Chris. He walked out years ago and never really came back, at least publicly. It's assumed that he was disinherited at the time. Now, no one is sure if Gloria wrote him out of the will. She may have written him back in. There was allegedly a bit of a thaw in the last few years, although whether it was enough of a thaw for him to be put back into the will remains to be seen.
As for the other family members, being a Vanderbilt may have meant college tuition was easier to pay, or seed capital may have been available for entrepreneurial ventures. As the name recedes from the landscape, there may yet be some immortality in the legend of the little rich girl.
Reference: Trust Advisor (June 17, 2019) "Does A Long Island Landscaper (And Not Anderson Cooper) Inherit Gloria Vanderbilt's Fortune?"