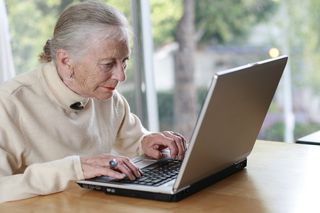 By the end of 2015, it is expected that 5.1 million persons age 65 and over will make their homes in California.  Add aging baby-boomers to the state's current migration patterns and it is entirely likely that the state will be home to more than 8.4 million seniors by 2030.  A recent report by the Senate Select Committee on Aging and Long Term Care, A Shattered System: Reforming Long-Term Care in California adds clarity to what may become a massive fiscal challenge for the state and its senior residents: "Reliance upon our existing patchwork of programs and services to serve our growing aging and disabled population will result in unnecessary expenditures, inequitable access, and irrelevant services."
California is trying to make progress in improving the services available to its growing senior population, according to an article in The (Crestline CA) Alpenhorn News titled "Legislative protection for seniors".
California passed AB 1899 last fall, which required any licensee found to have abandoned residents of a residential care facility to be permanently banned from operating facilities in the state. Also, California legislators passed AJR 29 in 2014. This bill asked for the restoration of federal funding for senior nutrition programs that was reduced by federal cuts, as well as to exempt these programs from future budget cuts. The federal government's reply to this request is stalled.
Now the state's legislators are considering AB 1122, the "Excluded Persons Administrative Action List," or "EPAAL" legislation. It requires the state's Department of Social Services, Community Care Licensing (DSS/CCL) to publish online all persons who are excluded from owning, operating, and/or working inside any licensed care facility as a result of an Administrative Law proceeding. The article notes that right now there's no mandatory requirement for DSS/CCL to refer elder neglect, abuse, or other egregious behaviors against seniors residing in assisted living facilities to law enforcement, so very few of these crimes are prosecuted. But through Administrative Law proceedings, DSS/CCL can permanently or temporarily prohibit a person from working in a licensed care facility.
The current bill is supposed to provide convenient, online access to EPAAL, allowing everyone to verify that caregivers and the employees don't have a prior history of behaviors which endangered the health or safety of a senior.
For additional information on elder law topics in Houston, please click here to visit my website.
Reference: The (Crestline CA) Alpenhorn News (June 19, 2015) "Legislative protection for seniors"