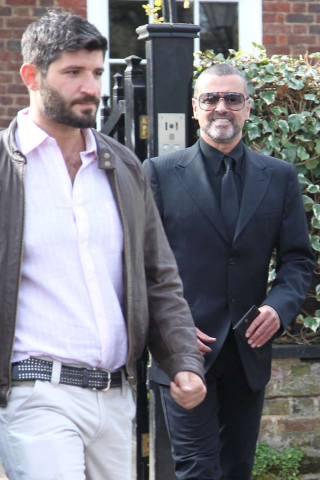 The wishes of former Wham! singer George Michael are bring carried out, just a few months shy of the two-year anniversary of his death.
Among the information being shared by Andros Georgiou, a cousin of George Michael, is that all of the organizations and individuals who were mentioned in the late singer's will have been contacted. However, that wasn't the only news from Andros.
MSN reports, in the article "George Michael's lover is challenging his will after being left nothing, says cousin," that Andros told the British newspaper, The Sun, that George Michael didn't leave anything to Fadi Fawaz, who was George's on-again, off-again partner since 2012. Fawaz also was the one who found Michael dead in bed in his home in the English village of Goring in Oxfordshire on Christmas Day 2016.
Local authorities later announced that the 53-year-old pop star died from dilated cardiomyopathy with myocarditis and fatty liver.
Andros Georgiou says that Fawaz is challenging the will. Michael's will stipulated that his enormous fortune of approximately $137 million should go to several charities, his sisters Yioda and Melanie and some members of his staff.
"People who worked for George and were loyal to him will be getting small amounts," his cousin Georgiou told The Sun. The newspaper reported that the housekeepers who worked at Michael's North London and Goring homes are among those mentioned as beneficiaries in his will.
Andros told The Sun that Fawaz received money regularly from George, while the pop star was alive. Fawaz has yet to move out of Michael's home in London's Regent's Park and is in the process of contesting his exclusion from the will.
"Fadi is threatening to go all the way to High Court, but I think the estate will have to settle with him," Andros explained to the British newspaper. "He's been offered £500,000 [roughly $655,000] and I think the estate should pay a couple of million to get rid of him."
It has also been reported that Kenny Goss, who was George's partner for 13 years, is also contesting his exclusion from the will. This issue is related to funding for the Goss-Michael Foundation, a non-profit art gallery in Dallas that features British art collections. Kenny and George started the foundation in 2007.
George's estate wants to sell his three homes quickly as well, reports The Sun.
Reference: MSN (July 29, 2018) "George Michael's lover is challenging his will after being left nothing, says cousin"