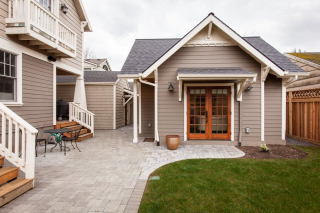 Parking a "granny pod" in the backyard may be the best way to have aging parents near, but not under, your own roof.
Finding suitable and affordable housing for aging parents is a real challenge for many families. A senior lifestyle community may be too expensive, but living on their own may be risky for them and worrisome for adult children. AARP reports that about 23 million Americans are caring for their elderly parents, but may not be able to or want to have their parents move in with them.
Older adults relocating to be closer to relatives, may soon have another alternative: a "granny pod" or micro-house. These small homes are designed for accessibility, but are compact enough to fit in a backyard.
AARP's recent article, "Granny Pods Are Becoming a Popular Housing Alternative," noted that CNBC recently reported on a 67-year-old retiree who wanted to move to Northern California to be closer to her family, but was shocked by the high housing costs.
The answer for this family was to build a 400-square-foot cottage in their backyard. The house, designed by Oakland-based Inspired Independence, includes a living room, bedroom and a galley kitchen. It comes with a walk-in shower and doorways and hallways that are wide enough to accommodate a wheelchair, if necessary.
An increasing number of companies are manufacturing modular dwellings that are specially designed for older people. Prices for the small houses vary, of course, based on the size and features. They can cost from less than $50,000 to almost $250,000.
For seniors considering the small dwelling as a retirement home, they should look for a design that includes certain essential features. These features include a bedroom on the main floor, full bath with a raised toilet, a walk-in shower, grab bars, as well as slip-resistant flooring.
Another important feature may be storage space, like drawers beneath beds and sofas that can be accessed without the use of a ladder. The house should also be constructed low to the ground, so there is no need for stairs.
You'll want to make sure that your granny pod is in compliance with local zoning laws, to preclude any protests by neighbors.  However, if the prospect of being able to check on aging parents only a few steps away from your back door, while they have their privacy and dignity, sounds good to you, this could be a good solution for your family.
Reference: AARP (September 11, 2017) "Granny Pods Are Becoming a Popular Housing Alternative"