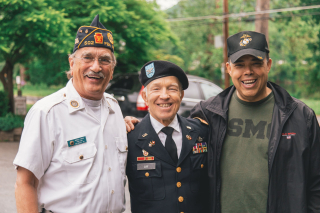 Following the adoption of new rules, there will now be options for veterans to appeal their disability benefits. The hope is that these three new processes will speed cases.
It took more than a year and a half, but the Department of Veterans Affairs has announced that new appeals rules have been enacted that will streamline the appeals process. Veterans whose disability benefits have been rejected, will now have one of three options to pursue their claims. Reforms were passed by lawmakers in 2017, so this has been a long time coming.
In the past, disability appeals languished for years. The VA is now hoping that the most difficult reviews can still be finished in less than a year in most cases, reports the Military Times in the article "VA's benefits appeals process will see a dramatic changeover next month." The target for cases that don't go before the Board of Veterans Appeals is an average of about four months for a final decision.
A successful appeal can result in thousands of dollars in monthly benefits payouts for veterans who've previously been turned down, for what they believe are service-connected injuries and illnesses.
"(This) is the most significant reform in veterans' appeals processing in a generation and promises to improve the timeliness and accuracy of decisions for our nation's veterans," said House Veterans' Affairs Committee Chairman Mark Takano, D-Calif.
Veterans groups primarily support the appeals changes, but some have expressed concerns about the new system limiting veterans' options for future reviews, in favor of getting faster resolutions.
Parts of the new process were implemented as pilot programs at select sites in recent months. In the past, the cases involved a combination of all three options, with cases reset and repeating steps with every new submission of case evidence.
With the first of the three new appeals processes, veterans can file a supplemental claim where they introduce new evidence in support of their case. The appeal is handled by specialists at a regional office, who make a final decision.
The second option allows veterans to request their cases be reviewed by a senior claim adjudicator, instead of the regional office. Those reviews are for clear errors or mistaken interpretations of a statute. If they find mistakes, they can require corrections for the cases.
The third option allows veterans to appeal directly to the Board of Veterans' Appeals. Those cases are anticipated to take the longest to process, due to the legal prep work. Veterans can obtain a direct decision or request a hearing before the board.
A choice is being offered to veterans who have cases currently pending in the system. They can stay with the current system, or they can opt to go with the new process.
For more information on Veterans Benefits in Houston, visit our website. 
Reference: Military Times (January 22, 2019) "VA's benefits appeals process will see a dramatic changeover next month"