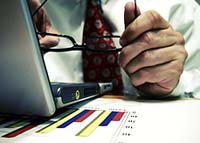 We say it over and over again. Check your beneficiary forms! Don't let your retirement funds go down the drain.
Anything involving the court system is rarely quick and painless (probate anyone?). Fortunately, IRAs can easily be transferred to your loved ones outside of probate simply by completing a beneficiary designation form. But what if there was no beneficiary designation form completed? Uh-oh, what now?
The slightly messy situation of an IRA left without a beneficiary was tackled recently by Ed Slott's blog, The Slott Report. The article, titled "There is No Beneficiary on the Retirement Account: Now What?," is the perfect encouragement to ensure that every beneficiary form is filled out and up to date.
The good news is that many accounts have a built-in default to the surviving spouse or children of the owner. Problem: What if that runs contrary to your estate plan? Alternatively, what if the account has no default? In all likelihood the account will then default to your probate estate and will be treated as any old bank account going through probate.
Aside from probate itself, there are lots of rules regarding how IRAs can be inherited and used by the inheritor. They must take distributions just like you do, but when the IRA defaults to your probate estate it gets messy – and fast.
The IRA can be assigned/transferred into a properly titled new account, but then again some IRA custodians simply refuse to do this, making the irreversible and catastrophically taxable choice to distribute the entire account to the estate.
Simply put, an IRA not acting like an IRA within the estate plan is messy. It is easily avoidable by filling out the beneficiary form and keeping it up to date. In some situations this requires being proactive. For example, when a surviving spouse inherits an IRA but passes before naming a new designated beneficiary to the account.
For additional information on beneficiary designations and estate planning in Houston, please visit my website.
Reference: The Slott Report (January 9, 2014) "There is No Beneficiary on the Retirement Account: Now What?"