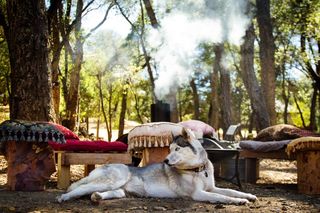 Sam Simon,  co-creator of The Simpsons, was a devoted owner of his rescue dog, Columbo.  And Columbo has enjoyed sitting in the lap of luxury.  One of Columbo's monthly bills was for acupuncture treatments, twice a week, at a monthly cost of $3,640. That was just one of his regular medical and therapeutic treatments.
Simon passed away earlier this year after a struggle with colon cancer. Most of his fortune was put in trust to be used to promote animal rights. Columbo, however, was given over to Tyson Kilmer, an animal trainer and Simon's friend. Now Kilmer and the trust that Simon created are in a bitter dispute over money to pay for the dog's care.
Kilmer claims that he needs $140,000 a year to maintain the same treatments that Simon gave Columbo. He claims that the trust refuses to give him the funds. The trust has a different story.