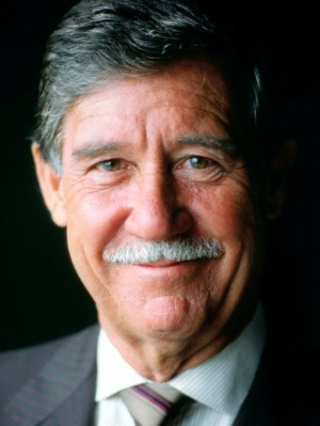 She says her father was suffering from Alzheimer's disease, and that's why he cut her out of the will. However, she also hadn't seen or spoken to him for more than two decades.
There's a big estate battle brewing in Britain, where the 61-year-old daughter of Reg Grundy, Kim Robin Grundy, is challenging her father's second wife with a will contest. Kim, who goes by the name Viola La Valette, is after part of her father's $900 million estate. The fact that she refused to see him, even while he was supporting her, is not making her a popular figure.
Starts at 60's article, "Reg Grundy's daughter says he had Alzheimer's when he cut her from will," says that the TV tycoon, who was responsible for Australian shows like Neighbours and Wheel of Fortune, died in May 2016 at the age of 92. He left the majority of his estate to his wife.
However, his daughter is now investigating his mental state and health before he died.
La Valette, who is Reg's daughter from his first marriage to Patricia Lola Powell in 1954, appeared in court recently to formally contest the will.
Her attorney reportedly claimed that Grundy suffered from "Alzheimer's disease and cognitive impairment" before he died.
It was previously reported that La Valette refused to see her father and cut off all contact with him for more than 20 years before he died, which left him heartbroken. His wife Chambers-Grundy said at the time that he had always supported his daughter and allowed her a glamorous lifestyle. Because of this, she never had to work and could live in luxurious hotels.
Alzheimer's disease is one of more than 100 types of dementia. The disease presents differently in each individual. As a result, it's difficult to definitely know when a person may lose his capacity to make important decisions.
The term "capacity" means that an individual has the ability to understand decisions about important personal matters, can voluntarily make those decisions and can communicate those decisions to others. Because of the unknowns with Alzheimer's disease and dementia, it's crucial to make plans while a person still has capacity.
Having a will in place in the early stages of any type of dementia or before any issues of capacity arise is critical to the success of an estate plan.
It's not yet known if Grundy really had Alzheimer's disease or any kind of dementia.
Reference: Starts at 60 (August 6, 2018) "Reg Grundy's daughter says he had Alzheimer's when he cut her from will"