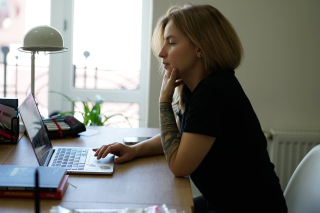 Digital property needs to be addressed in your estate plan just as tangible assets like real estate. Not planning for a digital afterlife is increasingly important.
How many hours do you spend on your smart phone, laptop or desktop, busy with work emails, personal emails, social media platforms, gaming, networking and more? In addition to the time spent, chances are good you have many digital properties: photos, music, financial accounts and more. Today's estate plan needs to include your digital afterlife.
Without a clear plan in place, it can be a major headache for your family when you pass away, says The Street in the recent article, "Estate Planning in a Digital World."
Estate planning for digital assets uses the same basic process as planning for physical assets, but it has some unique challenges:
The information in which a digital asset resides, may be owned by another entity;
Digital assets can change; and
Legal issues, like intellectual property and privacy laws, can complicate things.
Some online services haven't created clear policies for how digital assets are to be managed when a user has died. In some situations, it may be sufficient to make sure the person you've named as executor or given power of attorney has access to your passwords. However, there are some companies that may say that another person accessing an account is a violation of their terms of use. They may freeze or close the account. Therefore, you can see why careful planning and research is critical, when adding digital assets to your estate plan.
Some states have proposed standard governance guidelines for estate planning and digital assets, such as the revised Uniform Fiduciary Access to Digital Assets Act. This standard guideline gives clear rules regarding how an executor can manage digital assets after the owner's death.
Do an Inventory of Your Digital Assets. Begin with a list of all of your digital assets.
Designate a Person to Handle Your Digital Assets. This person will address your online accounts and files after you pass.
Maintain a List of Your Passwords. A big help to your heirs and advisors, is to have ready access to your accounts at your death. Keep this list updated, and store it in a secure location. You should also give a copy to your estate planning attorney.
Leave Detailed Instructions. The better the instructions you leave, the easier it'll be for your family to know what to do and to be certain that your final wishes are fulfilled. These are known as "directives," and some websites and online platforms are starting to have ways to let you provide detailed directives about your wishes on their website.
If planning for digital property seems overwhelming for you, imagine how difficult it will be for your heirs! Talk to an experienced Houston area estate planning attorney to be sure your digital plan is set up correctly in your estate plan.
Reference: The Street (June 3, 2019) "Estate Planning in a Digital World"