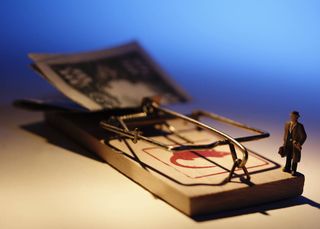 The woman Benny claims took advantage of him was his second wife. He says after he had a stroke, she threw him in a nursing home and never saw him again.
At one time, World War II veteran Benny Goo was very affluent with a gorgeous home in Hawaii. Now, Benny has nothing. He says that a woman named "Barbara" stole $2 million from him, which forced him to sell his home.
According to a KLAS TV(Las Vegas) news report posted on the station's website, titled "Veteran claims elderly abuse by ex-wife," Benny believes that "Barbara"—the woman who took advantage of him—was his second wife. Mr. Goo said that when he had a stroke, Barbara placed him in a nursing home. He never saw her again. However, Barbara was busy cleaning out his bank account and switching his Social Security and pension checks to be deposited directly into her accounts.
After five years in a nursing home, Benny started to request contact with his family. His care providers found Benny's sister and brother-in-law. Once the two discovered what had happened, they asked KLAS TV's "8 on Your Side" for help, but there was little that the investigative team of reporters, law enforcement, or anyone else could do to help him.
You see when a spouse spends communal money or opens additional bank accounts, it is not deemed "elder abuse" under the law. It is what is called spousal privilege. Benny's wife did not break any laws and was within her rights as his spouse to spend and transfer the money. Unfortunately, the only recourse Benny had was to divorce his wife and get his Social Security and pension checks redirected to his accounts. Unless, Barbara has a change of heart and returns the money to Benny, it is gone.
This short but dramatic tale shows how our elderly can so easily be abused and used. If you have an elderly relative, be sure to keep an eye on new friends that suddenly enter their lives. As you can see, the only protection in some instances from unscrupulous individuals is diligence.
Talk with an experienced elder law attorney before this happens to your family member or loved one. He or she will have a wealth of information and some effective strategies to guard against this type of treatment. 
For additional information on elder law in Houston, please click here to visit my website.
Reference:  KLAS TV (Oct 06, 2014) "Veteran claims elderly abuse by ex-wife"