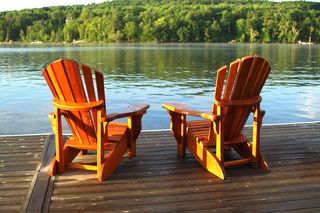 Drafting your will and testament is not exactly on most summer to-do lists. For many, the process is a memento mori, a task more foreboding than mowing the overgrown lawn. It's no surprise that according to the American Bar Association, 55 percent of Americans do not have a will or other estate plan in place when they die. And for families, the statistics are not much better, according to a survey done by the online legal service Rocket Lawyer. The firm found over half of Americans with children did not have a will in 2014. The reason most Americans said they didn't have a will, according to the survey: "They just haven't gotten around to making one."
The Denver Post says that the consequence of having no will is there's no guarantee who's going to get your assets. The article, "How estate plans protect family assets far better than a will,"also says that you can be placing your children at risk. They could end up in Child Protective Services or in the custody of someone you wouldn't dream of parenting your kids.
"If you don't have an estate plan, you have a 'plan' written by the state," the article states. This means you're relying on the state to decide what happens with your kids and your assets. It means that your family will be required to go through the courts, and probate may take months or even years, according to the American Bar Association. Most states have waiting periods for creditors to respond,  during which time the probate estate can't be distributed—and that's only if an individual's affairs are in order. Anything hairy means delays and more work.
Depending on the state, probate can be expensive. In some states it can cost between 5 to 7 percent of your estate. Similarly, an estate planning attorney's fees sometimes scare folks away. However, completing an estate plan on the web or through a lawyer who charges only a few hundred dollars to set up a basic will often leaves too much to interpretation.
The article advises you to understand how assets are titled and how beneficiaries are designated—the two most critical and least understood concepts in estate planning.
One more benefit to planning your estate with a qualified estate planning attorney versus a do-it-yourself online form is that your attorney will help you update your plans as laws change, and keep in touch with you throughout your life. Your online will won't tell you if you need a change or modification. You should update your estate plan at least every three years or when you experience a big life event, like a death, birth, marriage, or divorce.
As you live your life, make sure your estate plan reflects the needs and wants of your Houston family.
For additional information on estate planning and wills in Houston, please click here to visit my blog.
Reference: The Denver Post (June 15, 2015) "How estate plans protect family assets far better than a will"