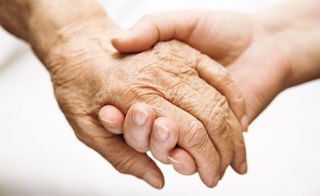 "Detectives are still actively investigating the elder abuse case," LAPD spokesperson Jane Kimtold THR. "They want to be as thorough as possible before a case is presented to the DA's office."
The hits just keep coming in DJ Casey Kasem's estate battle.
The Hollywood Reporter quoted private investigator Logan Clarke in its recent article titled Casey Kasem's Daughter Demands LAPD Arrest Widow for Elder Abuse. "
According to Clarke, [Jean Kasem] took Casey on a five-day odyssey:
"They ran out of food, bought a six-pack of Ensure at a drugstore, poured it into the feeding machine, and jammed it — and they're saying this woman didn't kill him? The nurse in the car took pictures of his colostomy bag full of blood. The cops have all the evidence. Belle Chen at the DA office told me she'd love to have a crack at this case. LAPD should be ashamed."
Jean Kasem has claimed Casey's death was Kerri Kasem's fault. She removed him from life support because his 2007 health directive said to do so if life support "would result in a mere biological existence, devoid of cognitive function, with no reasonable hope for normal functioning"
"They all have blood on their hands," said Jean Kasem.
Kerri Kasem says that's not true and she has started a foundation, Kasem Cares. She also supports Assemblyman Mike Gatto's legislation (AB 2034) that would allow a judge to rule on visitation [when a spouse forbids family members to see a loved one], instead of forcing family members to go through the very costly conservatorship process. In addition, it takes time, and your loved one could be dead.
Between Kerri Kasem and Jean Kasem, they have reportedly hired 13 sets of lawyers and spent more than $650,000 in legal fees—which is just one more point of contention. They are now fighting over who should pay court costs.
For additional information about elder abuse and other aspects of elder law in Houston, please click here to visit my website.
Reference: The Hollywood Reporter (February 02, 2015) "Casey Kasem's Daughter Demands LAPD Arrest Widow for Elder Abuse"