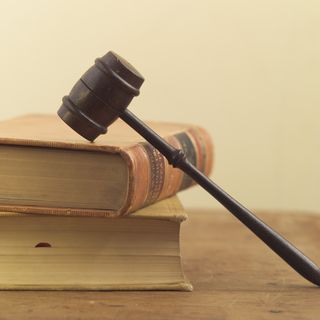 "We are delighted to inform the public that the court has appointed Bobby Brown and Pat Houston as co-guardians of Bobbi Kristina Brown ('Krissi')," read a statement issued by David Long-Daniels, counsel for Pat Houston and Cissy Houston, and Christopher Brown, an attorney for Bobby Brown. "Both Mr. Brown and Ms. Houston are jointly responsible for decisions related to Krissi's care and medical needs." A court-appointed attorney, Bedelia Hargrove, will act as a conservator for the 22-year-old.
The court-appointed attorney specializes in fiduciary litigation, probate and estate administration, estate planning, personal injury and wrongful death cases, as well as general civil litigation.
As conservator, the attorney "is responsible for Krissi's assets, including her likeness, rights and legal claims," according to the statement read by attorneys for the family.
ABC News Radio reported the story in an article on its website titled "Bobby Brown Granted Co-Guardianship of Bobbi Kristina."
The judge for the probate court of DeKalb County in Georgia confirmed in paperwork from April 24 that Brown's guardianship petition had been received.
Probate courts have jurisdiction over the appointment and supervision of guardians and conservators of adult persons who have been found to be so incapacitated by reason of physical or mental illness that they are no longer capable of making reasonable and rational decisions concerning management of their own money and property. Guardians make decisions concerning the person, and conservators manage and make decisions concerning the person's income and property.
Conservators must be bonded for the value of all income and personal property of the person, and guardians also may be required to post bond. Guardians for an incapacitated adult in Georgia are required to file annual reports on the physical and mental status of the ward. Similarly, conservators must file an inventory of assets, an asset management plan, and annual financial accountings—all of which are subject to review or audit by the probate court.
Cissy Houston, Bobbi Kristina's maternal grandmother, told "Entertainment Tonight" last week that Bobbi Kristina is "not progressing at all." Houston said, "She's not gone yet, but you know, whatever the Lord decides, I'm ready for her…I have nothing to do with that. That's His job. It's His territory, you know? And I understand it."
Bobbi Kristina was hospitalized in January 2015, after she was discovered unresponsive in a bathtub in her home. She was moved into a rehabilitation facility in March.
Questions about Conservatorships and Guardianships? Contact an experienced estate planning attorney to discuss them and learn more.
For additional information on guardianship and estate planning in Houston, please click here to visit my website.
Reference: ABC News Radio (May 11, 2015) "Bobby Brown Granted Co-Guardianship of Bobbi Kristina"