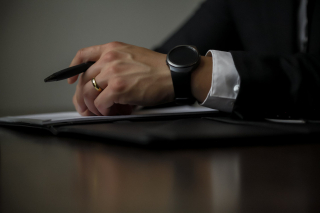 While it's possible for people to manage some parts of their loved one's estate, very often the tasks feel overwhelming. When getting assets out of probate becomes too much of a challenge, it's time for help.
There are instances when an executor knows they need to hire an attorney who focuses their practice on settling an estate immediately. That's usually when there's a lot of money at stake, or if the family has a history of fighting. Other times, the job of settling an estate starts out okay, then hits a roadblock, or becomes too emotionally draining.
KAKE.com's recent article, "Do I Need to Hire a Probate Lawyer?: The Top Signs You Should Lawyer Up" says that trying to do this on your own can often be time-consuming and expensive. That's why it's smart to have a probate lawyer working with you.
A probate or estate planning lawyer is one who specializes in issues related to a deceased person's estate. They have a broad range of responsibilities, which includes the following:
Guiding people through the probate process;
Advising the beneficiaries of an estate;
Representing beneficiaries, if they become involved in lawsuits related to the estate; and
Helping with challenges to the validity of the deceased's will.
If you're unsure about hiring a lawyer, consider whether you're dealing with any of these issues in your case:
A Will Contest. This is when another beneficiary challenges the will. If someone contests the will, it will drag out the process and could put you at risk of losing what your loved one wanted for you to have.
Divided Assets. When split assets are part of an estate, things get complicated, especially when you have intangible assets. To avoid trouble, hire a lawyer who can help navigate the division of these assets and make certain that everything is handled in a fair manner.
An Estate Doesn't Qualify for the Simple Probate Process. Probate can be extremely complicated. Depending on the size of the estate, it may qualify for simpler procedures that are completed relatively quickly. If this isn't the case for the estate at issue, you should get a probate attorney to help you.
There's Considerable Debt. If your loved one died with many debts, the estate will need to be used to pay those off. This can be tricky to manage on your own. An experienced attorney will help you make sure everything gets paid off and can negotiate debts to ensure you and the other beneficiaries receive as much from the estate as possible.
There's Estate Tax Due. While most estates don't have to pay any federal taxes, some states have their own estate taxes that apply to estates worth $1 million or more. It's not an easy process, so it's a good idea to work with an experienced estate planning attorney.
There's a Business in the Estate. You need to ask an attorney to you sort this out, because this will include the process of appraising, managing and selling a business of the deceased owner.
When dealing with complex matters, retaining an attorney who has experience in estate law will make a difficult time a little easier. An estate planning attorney can't smooth out all the bumps, but having someone on your side to help, can make the process a lot easier.
Reference: KAKE.com (August 9, 2019) "Do I Need to Hire a Probate Lawyer?: The Top Signs You Should Lawyer Up"