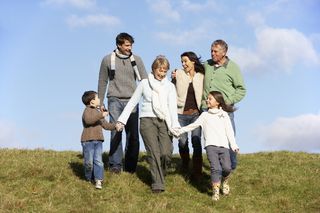 Here are money tasks to do this week that will help 2015 be more prosperous. Most can be done in about an hour.
As reported in a Chicago News Service article titled "Got an hour? Tackle these money tasks," a recent survey from the National Endowment for Financial Education found 64 percent of U.S. adults will make a financially focused goal in 2015. The article also notes that in making those goals, you should be specific and make individual tasks to keep the job manageable.
The first question you might ask is "Where the heck do you get the money to fund these goals?"
The article says most goals can be paid for little by little over time, even with a tax refund from the IRS (last year the average was about $3,000), and then details several money tasks to do this week that will help 2015 be more prosperous. According to the article, most tasks can be done in about an hour!
Here are a few tasks to take on:
Join a credit union. Or think about whether a small community bank would be able to meet your needs with fewer fees and lower loan rates than the big guys.
Get out of debt. Ok, this will take a little longer, but start with a sound financial plan.
Choose a better credit card. Get a card that fits your needs better, or consider going without.
Start saving for college. With school-age kids, you should log onto your state's college savings website and open a 529 college savings account and set up a recurring contribution, even if it's just a few dollars a month.
Start your emergency fund. Why? Because you might need it! Just 38 percent of Americans have enough money in their savings accounts to pay for unexpected expenses, and nearly 56 percent of Americans have no rainy day fund whatsoever!
Review your wireless plan. Another way to save is to look at what you spend each month on your cell phone. Make sure you're on the right plan for your situation.
Raise your retirement contribution. Up your contribution to at least 10 percent.
Make a will. Set an appointment this week with an experienced estate planning attorney to create a will, a durable power of attorney, and living will or healthcare directive.
Cook. This is a big one:  an American family of four spends about $3,800 per year on eating. Dine out because you want to, not because you're a crummy meal planner. Make a plan to cook at home and cook in batches to freeze meals for later.
Check on your nest egg. When's the last time you did any retirement planning? Really? Sounds like it's time to get on that too.
Read about more tips in this article and take action with the help of an estate planning attorney.
For additional information about estate planning, wills, and asset protection in Houston, please click here to visit my website.
Reference: Chicago News Service (January 25, 2015) "Got an hour? Tackle these money tasks"