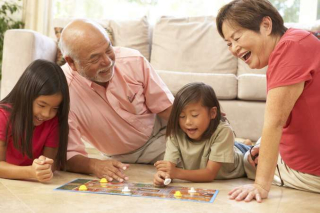 Unless you are raised in a family that talks about money, values and planning, starting a conversation with elderly parents about the same topics can be a little awkward. However, it is necessary.
In a perfect world, we'd all have our estate plans created when we started working, updated when we married, updated again when our kids were born and had them revised a few times between the day we retired and when we died. In reality, a recent report by Merrill Lynch and Age Wave says that only half of Americans have a will by age 50.
More than 50% said their lack of proper planning could leave a problem for their families.
CNBC's recent article, "How to have 'the (money) talk' with your parents," explains that, according to the study, just 18% of those 55 and older have the estate planning recommended essentials: a will, a health-care directive and a power of attorney.
To start, get a general feel for your aging parents' financial standing.
This should include where they bank, and whether there's enough savings to cover their retirement and long-term care. If they don't have enough saved, they'll lean on you for support.
Next, start a list of the legal documents they do have, such as a power of attorney, a document that designates an agent to make financial decisions on their behalf and a health-care directive that states who has the authority to make health decisions for them.
You should include information on bank accounts and other assets. It is also important to list their passwords to online accounts and Social Security numbers.
Next, your parents should create an estate plan, if they don't already have one. When you put a plan in place for how financial accounts, real estate and other assets will be distributed, it helps the family during what's already a difficult time. Having an estate plan in place keeps the courts from determining where these assets go.
While you're at it, talk to your own children about your financial picture.
Many people think they don't need to yet have the talk. However, the perfect time to have the conversation, is when you are healthy.
Here's an encouraging fact: young adults who discuss money with their parents are more likely to have their own finances under control. They are also more likely to have a budget, an emergency fund, to put 10% or more of their income toward savings and have a retirement account. That's all according to a separate parents, children and money survey from T. Rowe Price.
For many families, having a conversation during a family meeting at their estate planning attorney's office while working on their estate plan, is a good way to start a dialogue. Working with a professional who has the family's best interest in mind, with two or even three generations in the room, can prevent many stressful problems for the family in the future.
Reference: CNBC (June 30, 2019) "How to have 'the (money) talk' with your parents"