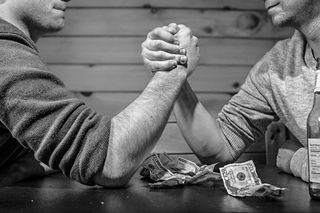 Long before America was officially involved in World War II, that is, before the Japanese bombed Pearl Harbor, there were Americans involved in the war. One group was the "Flying Tigers," an elite group of fighter pilots employed by the Chinese government in its fight against Japan. Phillip Epley, Sr., was a member of this group, more formally known as the American Volunteer Group. When Epley passed away in 2008, he left his entire estate, including his Flying Tiger jacket and other belongings, to his wife.
When she passed away in 2013, a dispute began over ownership of the jacket that Epley wore during the war. It's estimated value? $24,000. Penn Live has more on this story and the history of the Flying Tigers in "Rare WWII 'Flying Tigers' flight jacket focus of Pa. court battle."
Most of the memorabilia went to Epley's son, Robert Epley. However, one of the wife's sons, John Stull, removed the jacket from her home. Her other son, Daryl Stull, was named the executor of his mother's estate and repeatedly asked John to return the jacket. John refused.